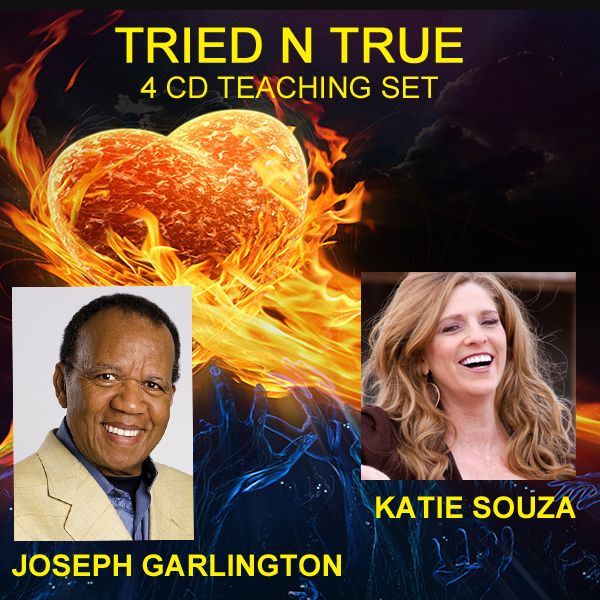 Tried N True (4 CD Teaching Set) by Joseph Garlington and Katie Souza
SKU#: PROD54034
by Joseph Garlington and Katie Souza
4 CD Teaching Set Includes
CD1- Joseph Garlington
CD2- Joseph Garlington
CD3- Katy Souza
CD4- Katy Souza
Bishop Joseph L. Garlington, Sr., PhD is the Senior Pastor of Covenant Church of Pittsburgh, a multiracial and cross-cultural community of more than three thousand members, which he founded with his wife, Barbara, in 1971.

For more than two decades, Covenant Church has been a model for racial healing and reconciliation for Reconciliation! Ministries International, an International Network of Churches and Ministries, INC, for which he is the Presiding Bishop. Reconciliation! Ministries spans the globe in representation with nearly a thousand congregations worldwide.

He is the president of Building United of Southwestern Pennsylvania, an ecumenical coalition of bishops in the Southwestern and Western Pennsylvania corridor. Through the synergy of this partnership with local and national financial institutions and foundations, they are beginning to see genuine fruit from President Bush's faith-based initiatives in providing home ownership for low and middle income families.

As the visionary for Covenant Church, he launched an outreach to recover an abandoned school in Wilkinsburg, PA, that is now known as Hosanna House Community Center, which has become a world-class model for creative partnerships with government, business, foundations and the church. This and other numerous outreaches to the local and international community have positioned Covenant Church as a recognized leader in the faith-based community.
Katie Souza and the EEM team teach and equip people how to move in the supernatural and cause the Kingdom of Heaven to manifest on earth. Through this ministry, thousands of people have experienced physical and emotional healing and have been equipped to fulfill their God given destinies.
KSM & EEM also serve the inmate population in over 2,000 prisons across the United States and in five countries. Katie is the author of "The Captivity Series: The Key to Your Expected End." Her powerful testimony of turning captivity into promise has changed the lives of countless people around the world. Her book teaches inmates how to take possession of their Kingdom purpose while behind bars.
Product Details
Weight: 1.5 lbs.
Related Categories