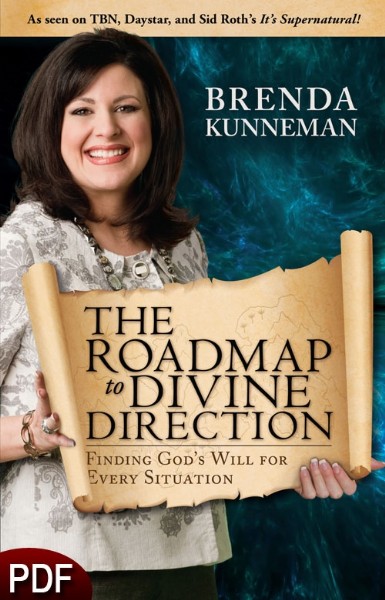 The Roadmap to Divine Direction
E-Book-PDF Download
By Brenda Kunneman
Price: $14.99
Sale! $10.29
Click HERE to order.

Print Friendly

Many years ago, before I even had a relationship with God, my aunt said to me that I would one day be a trailblazer and that I would do great things for God. She had no grounds for that word of prophecy, based on what she could see with her physical eyes.
In the natural, I was on a slippery slope of destructive behavior. Tangled up in addiction, drugs, and promiscuity, there was no indicator (in the natural) that I would ever be able to get free and fulfill that thing she had spoken over me.
At 21 years old I had a supernatural salvation experience in a hospital room where I fell madly in love with Jesus.
At 23 I met and married my husband. The same year we married is the year that we began ministry together as youth pastors.
That journey of being youth pastors had it's ups and downs, good times and bad ones.
Eventually our journey brought us to Oklahoma where we were the youth pastors in a very small town. I still remember the day that my husband Rene came to me and told me that he believed that God was calling us to leave Oklahoma and move up to Virginia to plant a church. I was shocked at my ears and I was so angry with my husband for him to even suggest us leave the church we were at. I was comfortable! I was happy! Things were going good, so why should we do anything differently? That had to be crazy talking, and surely my husband would come to his senses soon!
He said to me, "Well, just pray about it and see what God tells you." I was too mad to even pray about it, but I kept feeling the Holy Spirit bring it up, and each time He did, I felt impressed that we were indeed to uproot and move to Virginia to plant a church.
It was the strangest thing, since only weeks prior, I had been perfectly content and happy with living right there, living life as usual. At this point I prayed (possibly) one of the dumbest things I've ever prayed. I would encourage you that if God asks you to do something, and you feel like you need a sign, don't pray this: "Ok God, if you want us to move to Virginia to plant a church, then you'll have to somehow make it to where I don't want to be here anymore."
At the time I didn't really see what could go wrong, but after praying that, everything went wrong. I had unrest in my spirit, there was conflict everywhere we turned, and eventually it became crystal clear to me that God was answering my prayer.
One day at work it got so bad that I came home bawling and sobbing to my husband that I was ready to move. I couldn't handle any more confirmations! I was ready to throw our things into boxes right then and there!
We picked up and moved halfway across the country, and it was not an easy move.
We have lived in Virginia for a little over 5 years now at this point. It hasn't always gone smoothly. We lived in my mother-in-law's basement at one point. We lived with friends for a little while.
Now we are stable and live in a beautiful house, but it hasn't been this way.
Did We Miss God?
One day about 3 years into planting Streams of Life Church, Rene and I had a moment where we felt like we might have missed God. Maybe we would just give up. Planting a church was hard. Ridiculously hard. We had been hurt a lot. We had felt betrayed and disrespected by people. We were experiencing hardships within the process of planting the church that we hadn't anticipated. We wanted to run away. Different things had occurred that caused our congregation size to dwindle down to only our core team. Again. And doggone it, the thought of starting over again just felt too painful to bear. The pain of losing of our friends was just too raw. None of this seemed fair.
We applied online to some youth pastor positions and immediately got some nibbles.
Two different churches invited us to come interview for positions as youth pastors at well-established churches with large thriving youth groups, large facilities, and fancy buildings.
One of those positions was perfect. Absolutely perfect. The teens were easy to fall in love with. There was a house for rent only a few miles from the church and it was perfect for our family. The price was right on the house and the salary was generous from the church.
That night before I went to bed I began to cry and ask God what in the world we were supposed to do.
When I fell asleep I had a dream:
I was on a road, and Jesus was there and He said to me, "You are at an intersection. You can choose which road you want, and I will bless either one." I looked and saw that even though Jesus was saying I was at an intersection, I only saw one road to choose from. Jesus then said to me, "You see that road. It's a good road, and it would make a fine choice. Many people put their blood, sweat, and tears into the paving of that road. They paid a high price. They made sacrifices, and they paved a good road."
Pick Up Your Shovel
Once again, I pointed out to Jesus that there only seemed to be one road to choose from. As a response, He gestures out into the wild wilderness, and He says, "Well the other road, you see, it hasn't been paved yet."
I cried a sea of tears that night. Before, I had been crying at my own heartache. I had been crying at the feeling of being betrayed by people that I loved, and the feelings of what I felt was persecution.
But now, the tears flowed from a deeper place. A place within me that remembered the prophetic word that my aunt had spoken over me all those years ago, even before I was born again. Suddenly her words echoed in my spirit, "Baby, one day you're gonna do great things for the Lord. You're gonna be a trailblazer."
Suddenly it all clicked. It made sense to me that my destiny was somehow rooted in this road that wasn't even paved yet. Suddenly I knew that there would always be a part of me that would never quite be fulfilled unless I took the road that hadn't even been paved yet.
Today I have a message for all the trailblazers out there:
You are called to do something that has never been done before. Because of that, things will get lonely at times. Do not give up, though! Eventually God will send people to support you and love you and help you blaze that trail. But for now, just do it. Pick up that shovel and start blazing that trail.
God has equipped you with everything you need to take the next step. God is with you and this will all be so worth it one day.
Listen to the Father. Make it a point to crawl into His lap, press your ear to His chest, that way you'll always be able to dance to the rhythm of Heaven. Dance on, my beautiful friend, and enjoy the melody of His grace.
Amber Picota