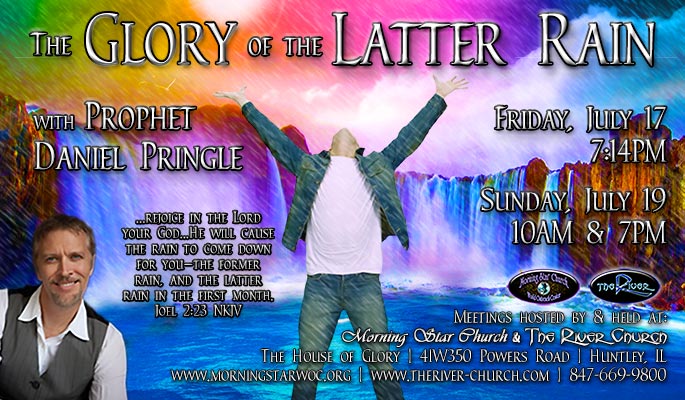 Schedule:
Morning Star Church and The River Church are excited to welcome back Prophet Daniel Pringle for three exciting, prophetic meetings on Friday, July 17, at 7:14PM, and Sunday, July 19, at 10AM and 7PM.



With a burning passion to see regions and nations experience revival and reformation, Daniel Pringle is an accurate prophetic voice helping to advance the church to the next dimension of the Kingdom. He has received the assignment of raising up a prophetic company, and he is fulfilling that assignment by establishing Elisha Company School of the Prophets in several cities across the nation. Prophet Pringle is known to carry a breakthrough anointing that charges the atmosphere as he proclaims and declares the directives of the Lord, so you won't want to miss these three prophetic meetings!


Meetings will be held at Morning Star Church and The River Church, "The House of Glory", located at 41W350 Powers Rd., Huntley, IL. For more information contact 847-669-9800, or visit www.morningstarwoc.org and www.theriver-church.com.



Don't miss these three highly prophetic meetings!
Registration Website:
http://www.morningstarwoc.org
Registration Email:
events@morningstarwoc.org
Registration Phone number:
847-669-9800
Contact Website:
http://www.morningstarwoc.org
Contact Email:
events@morningstarwoc.org
Contact Phone number:
847-669-9800